Genius Riveter
Features: 
Small size and easy to carry.
More efficient.
Lower noise.
A horde of rivets function, pull a good effect that it does not waste a rivet.
Can complete drilling, pulling rivets and screwing, as long as you have a drill.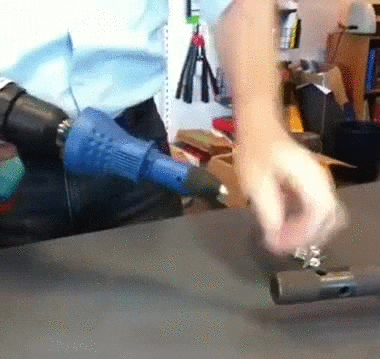 Specification: 
| | |
| --- | --- |
| Nozzle size | 2.4mm, 3.2mm, 4.0mm, 4.8mm |
| Working with power drill | ≥ 15N.m |
Contrast with the traditional riveter: 
Hand riveters is laborious and inefficient.
Traditional electric rivet gun is heavy, not portable, noisy and drop rivets. The internal structure is easily damaged.
Method of operation:
1. Hold the riveter body, reverse drill.
2. When you hear "da da da", the screws can be inserted into the nozzle.
*Use the wrench to install the right size nozzle.
*Using the wrong size will get stuck.


Note:
Please note that the package does not include the power tool.

Package Included:
1 x Genius Riveter + 3 nozzles and wrench